All-Natural Recycled Wine Bottle Candles Handmade on the Outer Banks of NC
HOLIDAY
It's candle season and we've been pouring up all of your favorites. We are stocked up on our founding fragrance and best seller Holiday as well as other favorites Tahoe Woods, White Birch, Frosted Juniper, Vanilla Eggnog, and Orange Pomander . Our fall collection has warmed many of your homes and offices as we continue to offer Toasted Pumpkin Spice, Warm Ginger, Spiced Honey & Tonka, Fig Tree, Mornin' Joe, Urban Cowboy, and Meet Your Matcha. These Holiday and Fall scents round out our year round offerings Sea Salt & Orchid, Lavender Driftwood, Outer Banks, Palo Santo, Rosemary Lavender and High Tide.

Our goal has always been simplicity. We've continuously created eco-friendly candles, repurposing glass bottles using environmentally friendly materials with clean labeling. It's been 10 years since we debuted our first fragrance. Moving forward as we look to expand and grow we wanted to illustrate what drives us and keeps us inspired, the force behind our work and creativity; the 4 elements, Earth, Fire, Air and Water. Our theme represents our lifestyle, our passion, living and working on the beautiful Outer Banks.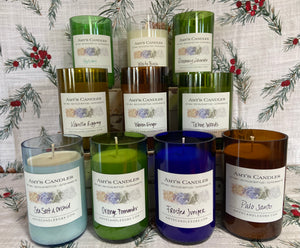 AMY'S CANDLES
Amy's Candles are made with 100% soy wax. They are scented with phthalate free scented oils and infused with some essential oils, insuring a long, clean burn. They are made with cotton wicks, which are lead and zinc free. Our Recycled Wine Bottle Candles are hand poured in small batches in glass bottles that have been cut, sanded and polished by hand. Each candle is unique and not always flawless. There may be slight variations in sizes and shapes. Our labels are made from recycled stone and rock materials. Every candle we make is personalized with the scent handwritten on the label. The burn time for 16oz candles is approximately 90 hours.

Cutting
Sanding
Polishing
Candle Care
△ Never leave a burning candle unattended.
△ Allow candle to cool before trimming the wick or relighting.
△ Keep wick trimmed to 1/4 inch at all times.
△ Glass containers may become very hot, please handle with care.